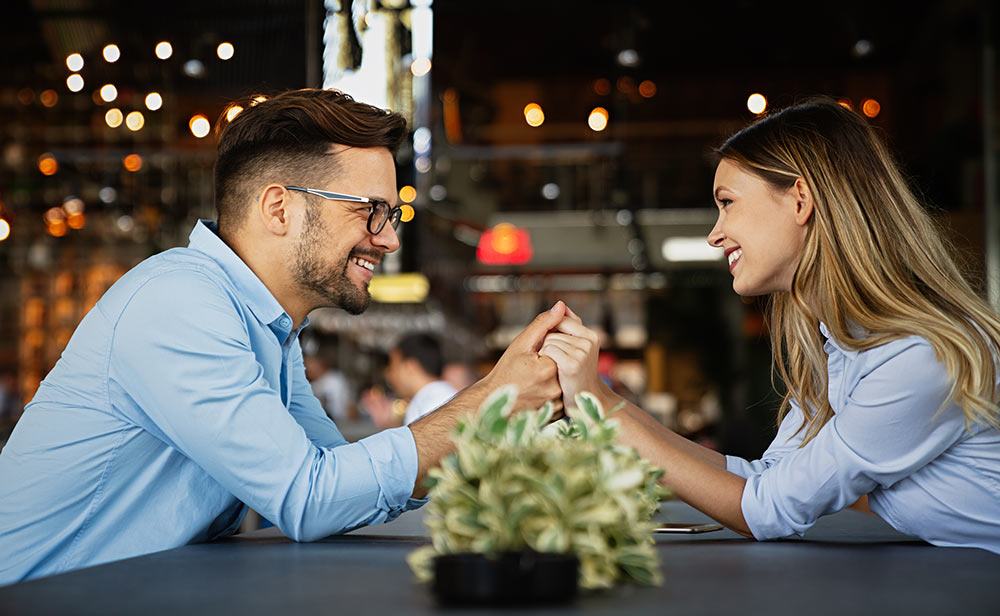 When winter feels dark and heavy but glittery hearts, red roses and chocolates line store shelves, even the most cynical among us can fall in love with love. Why not? Love gives life meaning. It helps us out of bed on those cold mornings and gives us lovely dreams at night. This month we invite you into the love stories of three Mount Pleasant couples: John and Debbie, Abbie and Mark and Don and Libby. We dare you to read them and not smile.
The First Online Daters
John and Debbie Chitwood met in another time: 1999, the year Al Gore "invented" the internet (insert laugh-emoji). Email existed, but smart phones were still a few years away. Dial-up modem tones and "you've got mail" were the soundtracks of the most tech-savvy among us.
John and Debbie were Lowcountry strangers dabbling in the brave new world of online dating. There was not—yet—an app for that, but chat rooms and websites like classifieds.com were becoming the rage.
John's editor at Mount Pleasant Magazine knew he was diving into this unknown world, so she asked for a story. "It was supposed to be about the dos and don'ts of online dating," he said. "You know, "do" meet in a public place, "don't" give out your home address."
Meanwhile, a friend of Debbie's set up a profile for her, knowing she wouldn't take the step for herself. Then she hit the ground running.
"There was a spot where you checked what you wanted in a partner," said Debbie. "I checked almost everything, and it told me there were no matches for me. So, I unchecked a few, and that's when I found John."
They exchanged a few emails, and John suggested their first date should be the circus. Movies are too quiet; concerts are too loud. At the circus, you can talk without annoying neighbors. He proposed the idea to Debbie, then made an almost-fatal mistake. "I said, 'This would be great for an article I'm writing,'" he said. "And she said no."
With Debbie unwilling to be his guinea pig, John took another girl to the circus and wrote the article. After Debbie read it, and realized John wasn't writing caricatures of the women he met, she gave him a shot.
Their official first date was at a place where John's best friend tended bar. A girlfriend of Debbie's stayed home by the phone that night in case John turned out to be an ax murderer. No one back then knew what would happen when you met an online love interest IRL. The friends on standby would later be a part of John and Debbie's wedding. The Chitwoods have now been married for over 20 years. Their daughter is a freshman at the University of South Carolina. It ended up being a match made in early-internet Heaven.
The Pickup Line So Bad It Worked
When Mark walked into the Rusty Bull brewery in North Charleston a few years ago, Abbie didn't really think much of it. He ordered a drink. "I asked if he had a tab already open," she said.
He did.
She asked what name it was under.
His response? "Love"—which is his last name.
We can all forgive Abbie for being a little incredulous.
"I looked at him, like are you for real," said Abbie. "And then he said, 'Do you know anyone looking for a good last name?' I'm just so embarrassed that it worked on me. It's such a cheesy line."
The two started talking and didn't stop. "I boldly—and weirdly—told him my schedule for the rest of that weekend, and he kept showing up," Abbie said.
An environmental scientist, Mark lived in central Pennsylvania, a 10-hour drive away. He was only in town for work, for a few months at most. They were both in their 20s with great families, friends, church communities and jobs. Neither wanted to move. Besides, it was way too early to get that serious, right? Or was it?
The hours of talking at the Rusty Bull set a foundation for a relationship that would deepen and grow quickly. Within a few short weeks, Mark met Abbie's family at her sister's wedding. Abbie hadn't planned to bring him—it was just too soon—but her sisters wouldn't take no for an answer. "There were four of them," said Abbie. "They circled me in my parents' dining room, asking me why he wasn't coming."
Mark didn't have clothes for a wedding, but made it work. "I found a polo," he said. It was awkward, but also great.
Mark moved back to Pennsylvania in April, returning to see Abbie every other weekend. By July, she moved north. They got engaged on the one-year anniversary of the first day Mark walked into the Rusty Bull. Seventy-two days later, they were married. Naturally, they held their reception at the Rusty Bull.
After living in Pennsylvania for "three winters," as Abbie put it, they decided to return to Mount Pleasant. A week prior to the move, they found out they were pregnant. Now, the baby is 10 months old.
It was a whirlwind that worked. They credit the strength of their relationship to those long hours talking at the bar, and that really, truly, awfully terrible pickup line.
There's No Such Thing as Coincidence
Sometimes in life, there are signs that just can't be ignored. In the case of Don Reinhart, 80, and Libby Little, 74, the signs resulted in a second chance at romance, companionship and true love.
Throughout their adult lives, they couldn't have been closer in terms of mileage. Don owned a horse farm in Maryland; Libby lived 4 miles away. Their children went to the same schools, and they went to the same church. "We could have stood on the same sports fields," said Libby. "But we never met."
Both were happily married, raising families and growing older. Then tragedy struck Don when he lost his wife 10 years ago. Libby's husband passed away five years later. And still, they never met.
Until, that is, they both moved into the same senior community in Mount Pleasant, S.C. — three states away — on the same day.
"My oldest daughter had a little puppy," said Don. "She took the puppy out to do its business and saw a woman with another Dachshund. They stared talking, and when my daughter came back, she told me, 'You'll never believe it, but I just met a lady named Libby who lived 4 miles from us in Maryland!'"
Later that day, Don walked to the market for lunch and saw a friend of his sitting with a lady. The friend introduced them, and when Don learned her name, something clicked. "I said, 'Are you the Libby that just talked to my daughter,' and she said yes," he recalled. "Our eyes met, and I asked her to dinner, and she said yes."
The pair has been inseparable ever since, first in their own apartments, then together in Don's. Now they're in a slightly bigger place they selected together, and from furniture (both like Chippendale and Queen Anne styles) to families, they've blended their lives seamlessly together. "Have we ever had an argument?" Don asked Libby.
"Absolutely not," she replied.
Libby has Parkinson's, but it never made Don question the relationship. "I just turned 80, and you know something's going awry in your own body," he said, laughing. "But we do everything. We go to the theater together. We do dinner together. We shop together. We do what normal people do."
Finding each other at an advanced age has been a joy for both. Added Don, "Libby is very tender. Very kind. She reminds me in so many ways of my dear wife, and I remind her of her husband."
"I never would have dreamed of this in a million years," said Libby. "But it's been terrific."
By Leah Rhyne