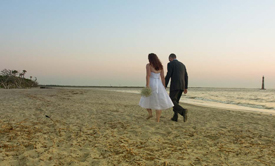 CONGRATULATIONS! Not only are you getting married, but you've decided to tie the knot in Charleston. All you need to do is find a great location to set the stage for all that is to come on your special day.
It is not as easy as it sounds. There are so many beautiful locations that it will be difficult to make a choice. And be sure to consider the season. Because spring and fall are extremely popular, you'll find that rates are often higher, too. A reception venue that is affordable in late August, for example, might be twice as expensive in October or May. And during the summer months, rental prices for beach venues can soar as high as the temperature.
If you are planning a destination wedding, you might consider some of Charleston's premier downtown hotels. You'll have the convenience of guest accommodations in a setting suitable for a romantic wedding. The Orient Express Charleston Place Hotel offers a perfect downtown location, and its wedding venues include the Grand Ballroom and the chic Riviera, a reinvented movie theater, across the street. Historic hotels include the Mills Hyatt House on Meeting Street and the elegant Francis Marion Hotel at the corner of King and Calhoun. A relatively new contender, the Market Pavilion Hotel, offers elegant and sophisticated accommodations for your guests as well as upscale locations, such as the rooftop Pavilion, for any wedding event.
For romance with a dash of history, one of Charleston's fine old homes might offer the perfect backdrop. The William Aiken House is an imposing mansion on upper King Street that has been restored to its former glory. The Legare-Waring House, inside the Charles Towne Landing Historic Site, is a more intimate setting, as is the Governor Thomas Bennett House.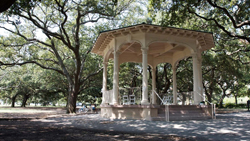 Perhaps the old South evokes images of heroines such as Scarlett O'Hara and stately homes of days past. Whether you want an elegant evening affair worthy of a wealthy planter or a casual barbecue down by the creek, it can be easily arranged. Middleton Place and Magnolia Plantation and Gardens both offer complete wedding packages. Boone Hall, the site of several movies, offers the classic white columns of a Southern mansion set amid magnificent lawns. And, if you don't mind venturing away from the big names, consider Longwood Plantation, a privately-owned property set along the east branch of the Cooper River that offers history and romance in a setting complete with horses and peacocks. To the south of Charleston, Old Wide Awake Plantation is another popular choice for brides to be, including actress Reese Witherspoon.
Because Charleston is surrounded by rivers, lakes and the Atlantic Ocean, there are quite a few options for ceremonies and receptions on the water. SpiritLine Cruises, Charleston Harbor Tours and the Tall Ship Pride are just a few to consider. For a small, intimate wedding at the dock or on the water, the Blue Hour touts itself as a "B&B on the Sea."
When only something unique will do, think about getting hitched while sharks swim in the background at the South Carolina Aquarium or in the quiet decorum of the Gibbes Museum of Art. Other unusual venues include the Sweetgrass Pavilion, which celebrates the centuries-old craft of basket weaving, or the Charleston Tea Plantation, the only place in America where tea is grown.
With so many wonderful venues from which to choose, you are certain to find the perfect place to start your new life together.