When I walked Into Campbell's Jewelers on Coleman Boulevard, my mind drifted back to the years spent at my own family's independent business. As a child,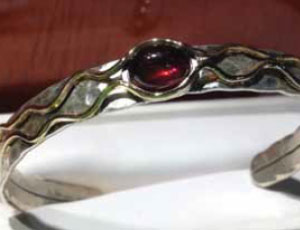 I would watch my uncle and other family members run the shop – and by running the shop, I mean much more than selling shoes. They'd stretch shoes to fit correctly, measure feet to determine a customer's perfect size and offer advice on how to care for leather and suede. Campbell's Jewelers is also a family business, nurtured in the tradition of not only selling remarkable pieces of jewelry but also of caring for gold, silver and precious stones for years to come. Bruce Campbell and his wife, Cyndy, son, Kyle, and daughter-in-law, Leslie, have enjoyed providing the best service possible to East Cooper residents since 1987. And though they have changed locations since opening on Simmons Street all those years ago, the Campbells have always stuck with the Coleman business district as their home.
"I always wanted to be on Coleman," acknowledged Bruce Campbell, owner and founder. "I thought this was the place to be, even then."
All of the members of the Campbell family have been jewelers from the start. During his years in the U.S. Navy, Bruce Campbell's job was to repair clocks and watches of all sorts onboard submarines. Following the Navy, he worked with pawnshops in downtown Charleston and partnered with Montgomery Ward, J.C. Penney and Friedman's. Later, while working at Northwoods Mall for D. P. Paul, Bruce made the leap from strictly timepieces to all types of jewelry and never looked back. Today, he describes Campbell's Jewelers as a place where the love for manufacturing and repairing fine jewelry is alive and well.
Bruce's son, Kyle Campbell, began learning the ropes of the business from his parents at the shop's original location, 307 Simmons St. Young Kyle was a natural, to the point that Bruce and Cyndy sent their budding jeweler to jewelry school after his graduation from Wando High School – only to find out that Kyle's skills were too sophisticated for the basic courses.
Word spread about Kyle Campbell's talent for making and repairing jewelry. After a stint "on the road" as a traveling jeweler, he returned home to assist with the family business and help it flourish. His wife, Leslie, who shares the same artistic eye as her husband and the rest of the Campbell family, recently became certified in jewelry appraisal.
"Our kids, Kyle and his sister, Lange, both went to school here, and our family has lived in Mount Pleasant since 1970," remarked Cyndy Campbell, when I asked how the Campbell name has stood the test of time. "And we're honest people. We tell our customers whether we can fix something or not."
Besides offering an assortment of unique fine jewelry, many pieces crafted in-house by Bruce and Kyle, Campbell's often repairs unusual items such as silver candle holders and teapots – even a silver horse bridal once – in addition to jewelry. Campbells offers Bridal sets, Wedding Bands and more for the marriage-oriented shopper.
"We can do things that other shops can't do," said Bruce Campbell. "You could say that repairs are our true love."
To learn more about why Campbell's Jewelers has been in business in Mount Pleasant for 26 years, visit www.campbellsjeweler.com, call (843) 884-8232 or drop by the store at 405 W. Coleman Blvd.