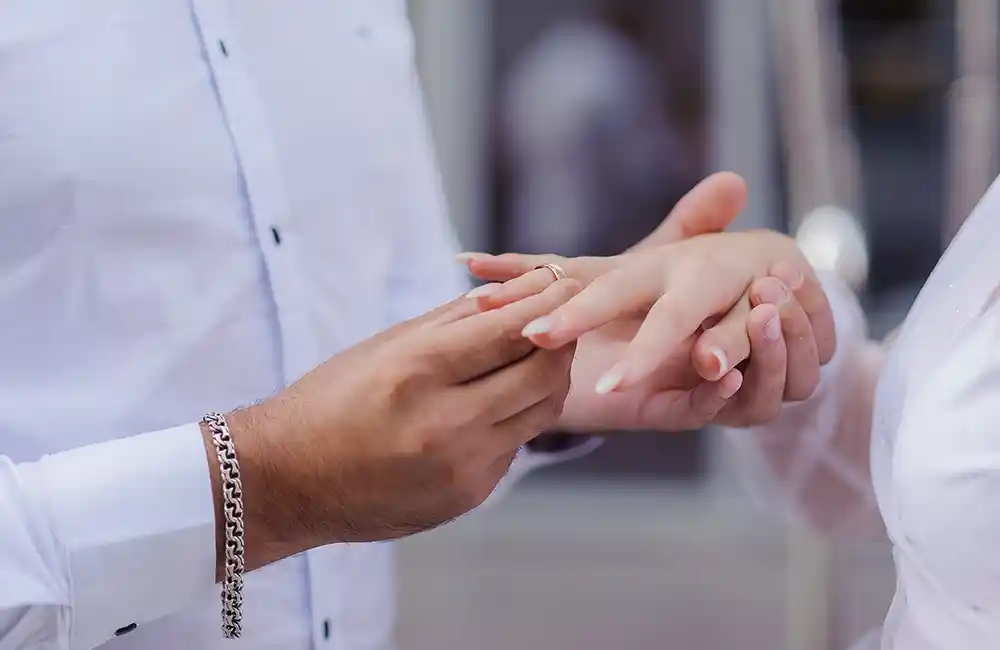 The holiday season is filled with joyful cheer, family time, social gatherings, tasty treats, opening presents and, most importantly, sharing these festive occasions with the person you love. One of the most popular times of the year to get engaged is during the holidays because people are surrounded by family and friends who truly support and cherish them. Highlighted here are a few holiday engagement stories shared by local couples. Who knows, perhaps reading about their experiences will inspire some of you to pop the question to your significant other this holiday season.
The Watsons
Hunter and Sydney Watson met in 2017 at dental school in Augusta, Georgia. They became instant best friends and were practically inseparable. The duo soon started to date, and the rest is history. At the end of their last year of dental school, Hunter asked Sydney to marry him. They got engaged in December 2021, and in 2022 they tied the knot at Boone Hall Plantation. The couple are excited to be moving back here in 2024 to enjoy the rest of their lives in the beautiful Lowcountry. The Watson's were happy to have Polly's Fine Jewelry be a part of that special moment in their lives. From getting engaged to their wedding, to two years later following the birth of their son, Banks, Polly's will always remain close to their hearts.
---
The Rojas
Marcus and Haley Rojas had just celebrated six years together. Prior to their anniversary dinner the couple walked around to see the Christmas lights in Marion Square and the Cistern. Before Haley knew it, Marcus got down on one knee and proposed to her in the Cistern. They met at the College of Charleston so what better place to start their engagement than this iconic CofC landmark.
---
The Pauls
Abby and Michael Paul first met in Atlanta at the end of summer 2020 and ultimately fell in love when they ran into each other on the belt line two months later. Michael proposed at Abby's parents' house by the Christmas tree right before they left for an early Christmas dinner with extended family and friends. The proposal provided a big, merry surprise for everyone.
---
The Hirschs
Michael Hirsch took Caroline back to where they first met. They had family at the house earlier in the day so everyone could attend an oyster roast. After the oyster roast, they decided it would be fun to head over to Holy City Brewing. Little did Caroline know that Michael would be popping the question. The hostess at Holy City was in on the surprise too — she told them that there was a balloon arch out back where they could take their picture for the chance to win a gift card. After grabbing some drinks, Michael asked Caroline if she would like to take a picture in front of the balloons to be entered into the contest. While trying to take a selfie, Michael got nervous that Caroline would see family and friends walking up behind them, so he grabbed her hand and got down on one knee.
---
The Moldriks
Susan "Q" and Gunnar Moldrik are truly the embodiment of opposites being attracted to one another. Gunnar is a personal trainer to the moms and the cast of "Southern Charm." Susan is a digital content organizer and creator. Gunnar is eight years younger than Susan. Even though Gunnar tried his hardest to date Susan, she wasn't having it. They formed a great work and friend relationship. "We were best friends. We traveled together and did everything together," Susan explained. Susan initially refused Gunnar's attempts to take their relationship to the next level. She went to Denver for a wedding and one of her friends finally convinced her to give Gunnar a try. "Everyone thought we had a secret relationship because we were always together," recalled Susan. "My girlfriend told me to just try it…what do I have to lose? I hadn't been in a relationship in five years. So, I called him at the Denver airport and my flight was delayed. Gunnar stayed on the phone with me until I was able to fly home. It was literally 12 hours later. That moment changed how I looked at him."
By July 2019, they were officially a couple. During the beginning of COVID-19, Susan lost her job and moved in with Gunnar. Gunnar's personal fitness empire took off. Susan and Gunnar are true entrepreneurs and are making an impact in the Charleston area. Last December, Gunnar teamed up with Jason Harn from Loy Harn Jewelers to create a custom engagement ring. He popped the question in front of Susan's family at Penn State University.
---
Mount Pleasant Magazine wants to extend a 'thank you' to Polly's Fine Jewelry and Loy Harn Jewelers of Mount Pleasant for partnering with us to share these holiday engagement stories with the community. The holiday season is that special time of year during which love blossoms and miracles happen.
By Maurice J. Frazier