On your wedding day, everything revolves around the gorgeous dress you are wearing, and the newest trend for wedding dresses this season is the barely-there spaghetti straps. It is similar to wearing a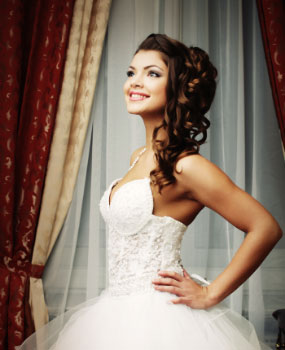 strapless dress, with just a little bit more support from thin, delicate strands that can loop your shoulders or neck.
Women are also flaunting off-the-shoulder straps on their big day. The fabric falling gracefully off the shoulder adds a fragile look to any dress.
And if you thought the crop top trend would not affect wedding dresses, think again. Mid-drift gowns are all the rage, adding an edge to the bride's look.
This wedding season, women are deciding to mimic their cake adding layers and ruffles to the body of their dresses. Wedding dresses are coming in tiers, increasing volume and adding drama.
The bride is considered the number one celebrity at her wedding, so why not have the "Angelina Jolie" slit? The long slit up the leg is a great way to add sexiness to the bride's walk down the aisle.
And let us not forget about our supporting ladies. The wonderful friends and family of our bride are sporting various shades of soft pink! From blushes to peaches, brides are loving the feminine splash of color for their wedding parties.
By Lillian Miller