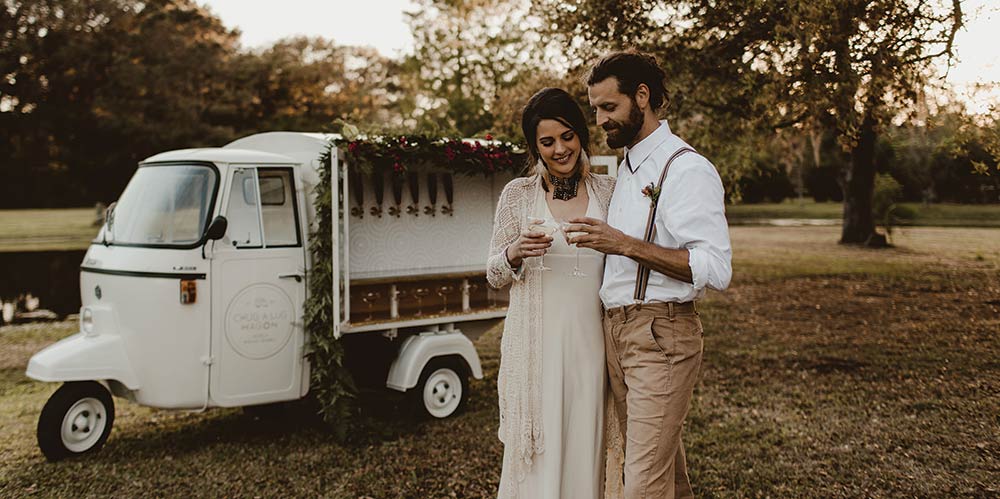 So many details go into planning a wedding. Some shape the entire evening, while others may have a smaller, more meaningful impact. The combinations of these choices are infinite; they are what make each wedding personal and unique. But it's the moments that allow your guests to interact in an unexpected way that make a wedding truly unforgettable. From fun food presentations to sweet keepsakes, these special touches will keep your guests reminiscing about your wedding for years to come.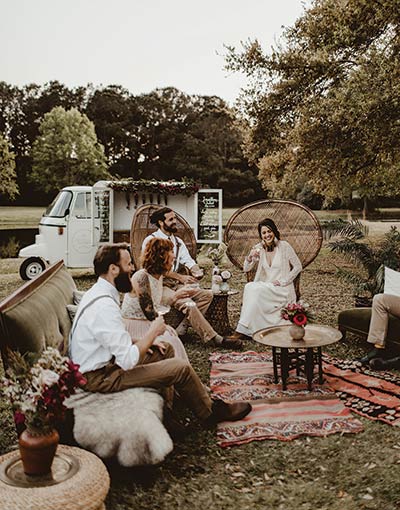 Wedding guests love a seafood display; it's decadent, delicious and quintessentially Charleston. If you really want to make your cocktail hour memorable, presentation is key and raw bar specialists Oysters XO have turned shucking bivalves into an art form. Owner Rifko Meier introduced oester meisjes (oyster girls), a concept that originated in his hometown of Amsterdam, to the U.S. in 2012. The oyster girls (and guys) don sleek white aprons and the shucker's version of a toolbelt, complete with a bucket of oysters and all the accoutrements that your guests will need to doctor them up however they fancy. Roaming through the crowd, the oester meisjes do more than simply present fresh seafood. By offering a one-on-one interaction, shuckers can draw in guests who wouldn't normally visit a stand-alone seafood station, while demonstrating that shucking oysters doesn't have to be dirty or difficult. In fact, with snazzy gloves and a swift hand, it's the perfect party trick.
You can't have a successful cocktail hour without booze, and for years couples have been taking the opportunity to show their personality by offering signature drinks. If you really want those Moscow mules to make a statement, Chug-A-Lug Wagon is the perfect way to serve your cocktails with a side of style. Their vintage Piaggio Ape, which is just a tad larger than a golf cart, started as a commercial delivery truck in a small town in Italy. Owner Theresa Dulken Wolf breathed new life into the vehicle with a shiny coat of pearl white paint and a beautifully crafted wood and brass tap system, highlighted by a stunning mosaic tile backdrop. Now, "The Chuglette" is the most adorable way to serve up your beverage of choice. Attended by a handsomely dressed bartender, Wolf pours a wide range of tasty drinks by the keg, from Italian prosecco and rosè to numerous local and domestic craft beers. Some of the most unique offerings are cocktails mixed with handcrafted sodas from the jerks at Cannonborough Beverage Co. With a seafoam green rendition and a pint-sized Chuglette in the works, Chug-A-Lug is sure to keep your guests raving about your specialty cocktails.
Weddings are about more than hosting a fun evening; it's important to plan ways to turn all that joy and love into tangible memories that you can treasure for years to come. Live wedding paintings have become a popular way to preserve an important moment of your wedding day, while also providing entertainment for your guests. Chloe Strickland started painting weddings her freshman year at SCAD and never looked back. After graduating in spring 2019, Strickland made downtown Charleston her home and turned Paint by Chloe into a full-time business. Using acrylic paint, she portrays ceremonies and first dances with thick brushstrokes and lots of texture. Strickland said, "The photographer is there to capture how the evening looked realistically, so I like to capture the feeling and mood with color, line and texture in an abstract way." She arrives a few hours before the festivities start to begin painting the overall details of the space. As guests arrive, they crowd around her excitedly, eagerly checking in on her progress throughout the evening. By the time the reception ends, the painting is complete, allowing everyone to see the finished product as they depart. While the original becomes a treasured piece of artwork hung prominently in the couples' home, many choose to feature the painting on their thank you cards, providing a lovely memento for guests.
If you're looking to end the evening with a bang, sending guests home with a sweet treat is always a home run. Scoops Wheely Good Ice Cream serves up scrumptious all-natural ice cream and sorbet in over 30 flavors from the back of the sweetest little ice cream cart. Modeled after a traditional European 1923 Wall's ice cream bicycle, their black and white setup comes complete with a striped umbrella, which will quickly make Scoops the most Instagrammed detail of your reception. Their ice cream tastes as good as their cart looks, and couples can choose up to four flavors from classics like cookie dough and double Oreo to Lowcountry favorites like Carolina peach and Charleston praline. Scoops' ice cream sandwiches are the stuff of dreams and are made-to-order, so guests can craft the perfect end to their evening.
By Lindsay C. Bishop