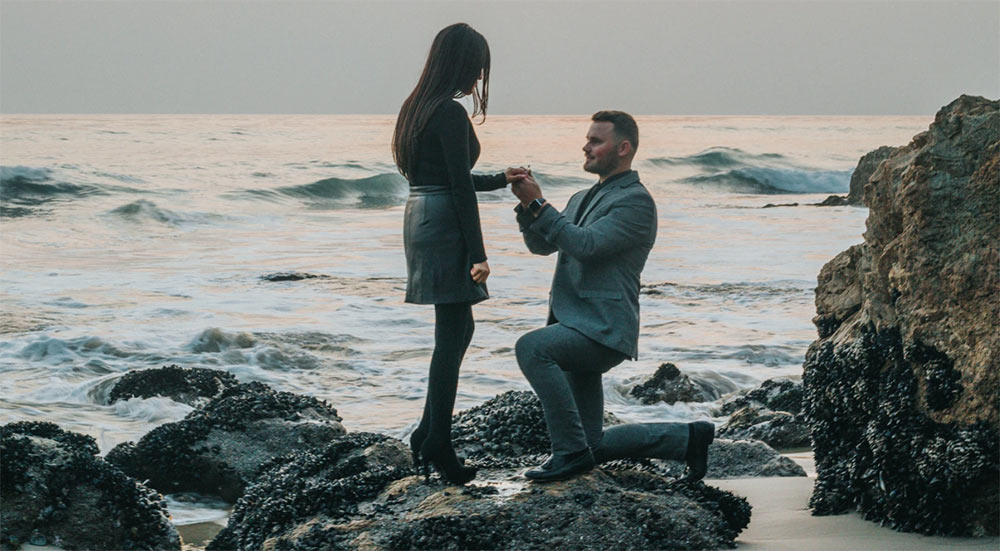 The marriage proposal is often as memorable as the ring itself. Whether the moment was planned for months and ends with a pop of champagne and a party or it's impromptu — like the Tuesday night my brother asked his now-wife while she was making the bed — every story is one-of-a-kind.
Enjoy reading these perfectly unique proposal stories, shared by local couples.
Erika & Ben Greco
When we would see 11:11 on the clock, Ben and I would always tell each other to make a wish. It's something I grew up doing and then taught him.
We joked that November 11, 2011, at 11:11 was super wish time. Ben was a grad student at Clemson, which was where we met, and I came to visit for the homecoming game that weekend. We went out to see the floats on Bowman Field and walked around the reflection pond, which he remembered was my favorite spot on campus.
Then at 11:11 p.m. on 11/11/11, he pulled me in close and told me to close my eyes and make a wish. I remember that I could feel his heart pounding even through his coat. When I opened my eyes, he was down on one knee and asked me to make the greatest wish of his life come true and be his wife.
Emily and Parker Fosberry
In October, my now-husband, Parker, — who is the opposite of me when it comes to having "all the feels" — bought a Bronco and was beyond excited. I was furious. He got a car, but where was my ring? He told me, "Just wait, you'll be happy soon enough."
The next day, I was still annoyed, and to make up for it, he asked if I wanted to go to Home Team BBQ and for a walk on the Sullivan's Island beach. I was happy my non-romantic boyfriend wanted to go to dinner and walk on the beach with me, so reluctantly, I hopped in the Bronco.
We walked to our favorite spot on the end of the island and it was perfect — people fishing, dogs running and water crashing under a startling sunset.
Then Parker mentioned a wooden elephant box he had ordered and pulled it out. He got on one knee, pulled my dream ring out of the box and asked me to marry him. Through tears and screaming "Yes!," I noticed two of my best friends with cameras, capturing it all. After lots of happy tears and many pictures, we headed to Home Team, which was decorated with balloons and signs. All our friends were there and yelled a big "Congratulations!" It was everything I had dreamed of.
Parker worked magic to make that day the most memorable and best day of my life — that is, until our wedding day this past January.
Jarred & Adria Jones
My wife and I met on Valentine's Day in Vegas in 2014. We both happened to live in Charleston and started dating as soon as we got back. Fast forward to 2015, I planned a trip for the two of us back to Vegas to propose.
Six months in advance, I recruited 15 of our friends to fly out for the surprise. I proposed in the Wynn Hotel room we were staying in, then we went to dinner and all our friends surprised her outside of the night club where I had reserved a table. The best part is our friends kept it a secret for six months. It was such an awesome expression on her face when she saw all our friends.
By Teri Errico Griffis