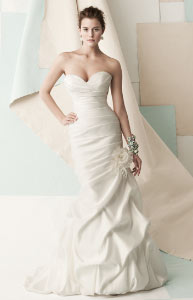 Some little girls dream of being a bride from their earliest childhood. They know what kind of dress they want. They know exactly where to go for everything bridal in Mount Pleasant.
Jean's Bridal has been taking care of brides since 1974, offering a full selection of bridal gowns in every style you can imagine. And although your mom may have purchased her gown there, Jean's Bridal is up on the latest trends.
Styles change and Michelle Wellmon Waterbury said that "fewer brides are asking for strapless gowns" in favor of more modest looks. She added that simple yet whimsical dresses are popular for destination weddings. Michelle advised brides to be open-minded. A bride who wants one style at first may find another style is much more flattering.
Jean's Bridal also tends to the rest of the wedding party
Bridesmaids' dresses can be beautiful (really!) and, like the wedding gown, ideally should be chosen six to nine months in advance to allow for proper fitting. Bridegrooms are tending to casual attire such as suits, although tuxedos are still requested for more formal weddings. Mothers of the bride and bridegroom are not forgotten here – they offer an outstanding collection of dresses.
Attention is in the details, and Jean's has all the little extras, such as jewelry, headpieces, shoes and even gifts for the bridal party.
And good to know: "We do alterations, even if you bought the dress elsewhere," Michelle said.
Looking for the perfect dress? No worries. It's at Jean's Bridal.
Jean's Bridal is located at 798 Johnnie Dodds Blvd. in Mount Pleasant. More information is available at www.JeansBridalCharleston.com, or you can call (843) 881-2056 for an appointment.