What better way to celebrate Valentine's Day with your special someone than to embark on a romantic weekend getaway? A trip to Paris, Kingston, Venice or Kyoto may be out of the question, but with the Lowcountry's abundant portfolio of charming inns, cozy bed and breakfast lodgings, waterfront resorts and boutique hotels, Mount Pleasant residents need not travel far to celebrate the holiday of love with energy, style, and enthusiasm.
THE INN AT I'ON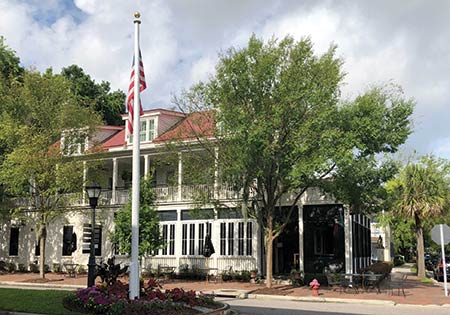 Nestled next to the main entrance of the I'On community, The Inn at I'On, is perfectly situated for couples who want to spend a romantic night or two away from home without leaving Mount Pleasant. The Inn, which offers 11 guest rooms, changed ownership early in 2018 and is now a member of the Ascend Hotel Collection.
Jennifer Russell, general manager, said, "If guests call in and request a romance room, we'll have glasses and champagne waiting for them." Onsite, the Community Table restaurant, which opened late in November 2019, provides complimentary sit-down breakfasts to The Inn at I'On guests. Other restaurants within easy walking distance for lunch or dinner include the Square Onion, O'Brion's Pub & Grille and Langdon's Restaurant & Wine Bar.
Guests get access to I'On walking trails within I'On, such as the Rookery, where waterfowl hang out, as well as to the I'On Club facilities, which include tennis courts and a fitness center. Russell noted that the club has a heated salt-water pool where guests can lounge. To make the (short) journey home a bit sweeter, The Inn at I'On staff give out snack bags during check-out.
By Frances J. Pearce