What better way to celebrate Valentine's Day with your special someone than to embark on a romantic weekend getaway? A trip to Paris, Kingston, Venice or Kyoto may be out of the question, but with the Lowcountry's abundant portfolio of charming inns, cozy bed and breakfast lodgings, waterfront resorts and boutique hotels, Mount Pleasant residents need not travel far to celebrate the holiday of love with energy, style, and enthusiasm.
HOTEL BENNETT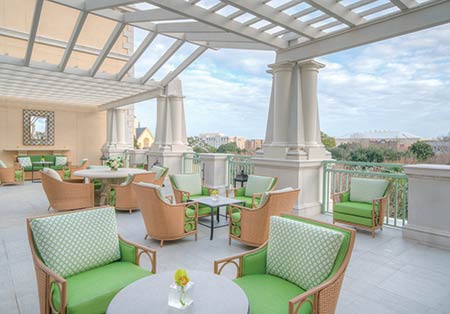 Opening directly onto both King Street and Marion Square in downtown Charleston, long-awaited Hotel Bennett is positioned as described by Jomary Valente, the hotel's marketing manager, "right in the middle of the action." In addition to luxurious accommodations, Hotel Bennett provides a diverse selection of on-site options for ravenous guests. Fine dining restaurant Gabrielle serves New Orleans-influenced cuisine. Its brunch offerings include breakfast beignets, Oysters Rockefeller and eggs "Bennett." A wide variety of seafood options are available during dinner service.
Additionally, Camellias at Hotel Bennett is both a bar and a spot for afternoon tea. Its menu includes caviar, mocktails, champagne cocktails, opera cakes and lemon meringue tarts. The décor embraces repurposed pink marble rescued from the Charleston County Main Library, which formerly occupied the site. Fiat Lux serves Mediterranean-inspired dishes and presents a panoramic view of the city. La Pâtisserie offers croissants, pastries, coffee and a French ambiance. Valente said it evokes "the feel of a romantic escapade." Hotel Bennett's urban day spa, intimate with only five treatment rooms, includes a couple's suite, and the rooftop pool is accessible to guests only. For added privacy, guests can rent cabanas.
By Frances J. Pearce