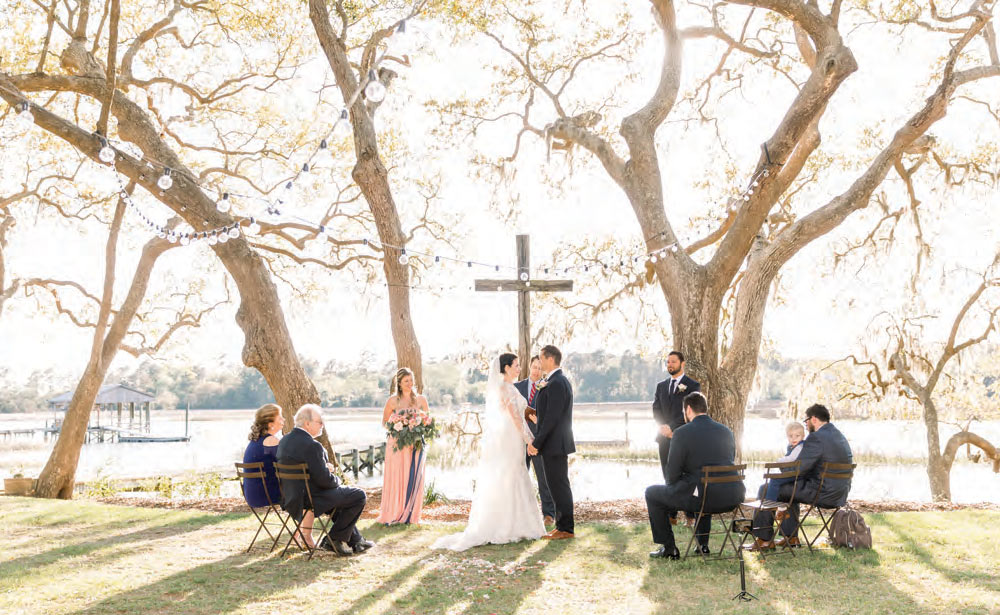 Imagine you've been planning the day for months. From the flowers in your bouquet to the late-night wedding party snacks, every detail of your wedding has been chosen with care. Then, a month before you're set to say "I do," a worldwide pandemic begins to take hold. Coronavirus touched down in Charleston just as wedding season began, causing many couples to postpone or even cancel the celebrations that they had worked so hard to plan. Some, however, chose to press forward, declaring their vows of love at creative, intimate gatherings.
Melanie Smith and Christopher Condeni found each other on Bumble and immediately hit it off. The two were set to wed April 2, 2020 on Jekyll Island, among beautiful live oak trees. As the virus progressed, they were forced to shift their plans, beginning with a smaller guest list. When the venue made the decision to close, the couple decided to keep their original wedding date and host a family affair at home in Charleston.


"We were so blessed to find Marianne Caldwell and River Oaks and have an intimate wedding that was more dreamy than we could have ever imagined," said Melanie.
At River Oaks, the pair said their vows in front of immediate family beneath grand oaks, just as they had envisioned. Known for her ability to create special moments, Caldwell went the extra mile to make Melanie and Christopher feel happy and relaxed — she even surprised them with a sparkler send-off at the end of the evening. Reflecting back on the experience, Melanie marvels at how changing plans on short notice taught the couple to be flexible and creative.
"We also truly experienced a better understanding of what a wedding day should be about — the bride and groom celebrating their love and commitment," she said. "While we would have loved to celebrate with more people, we were completely focused on each other during the day, which made it that much more meaningful for us."

For Amie Forsyth and Rob Berry, the coronavirus wasn't the first state of emergency to play a role in their relationship. The two met in a restaurant while out with friends, as Hurricane Dorian barreled toward Charleston.
The pair talked all night long as the hurricane raged on, and they've been together ever since. Engaged on December 24, 2019, Amie and Rob were aware of the progress of the pandemic as they began planning, but they were so excited to be married that they moved forward anyway, embracing the idea of an intimate wedding.

While taking professional photos downtown, a friendly couple emerged from their home and offered to let Amie and Rob finish the shoot in their stunning garden. Amie kept in touch, and when the owners offered their home once again for the nuptials, she was thrilled to accept.
"Having a small wedding was an absolute blessing," said Amie. "It allowed us to put the focus on each other and our closest family members."

Hannah Kinney and Eli Batkoski fell in love with Charleston while vacationing here. When Eli popped the question, the Raleigh couple knew there was no better place to host a fun-filled wedding weekend for 130 of their closest family members and friends. But as coronavirus cases began to mount, Hannah experienced a rollercoaster of emotions while trying to salvage the wedding she had been planning for 16 months. As much as they wanted to share their union with their loved ones, Hannah and Eli didn't want their wedding day to be overshadowed by fear and anxiety. But they also couldn't imagine spending April 11 sitting on the couch at home, after so much anticipation. With the help of their venue, The Gadsden House, the couple forged ahead with a simplified version of the big day, which included just the two of them, their photographer and a computer.
Early in the planning process, the couple had chosen Hannah's cousin as the officiant. Stuck in Portland, Oregon, the officiant set his Zoom background to the Gadsden House, and the two said their vows in front of their families, who were dressed to the nines in their respective living rooms. After saying, "I do", the couple celebrated with a champagne toast and a miniature version of the original cake they had designed.
Hannah and Eli feel gratitude toward their vendors for going the extra mile, especially The Gadsden House. Eli even commissioned a painting of the building as a wedding gift for Hannah, so being able to begin their marriage there was important to them.
"We weren't robbed of a beautiful wedding day," said Hannah. "It's something we will cherish forever."
By Lindsay C. Bishop