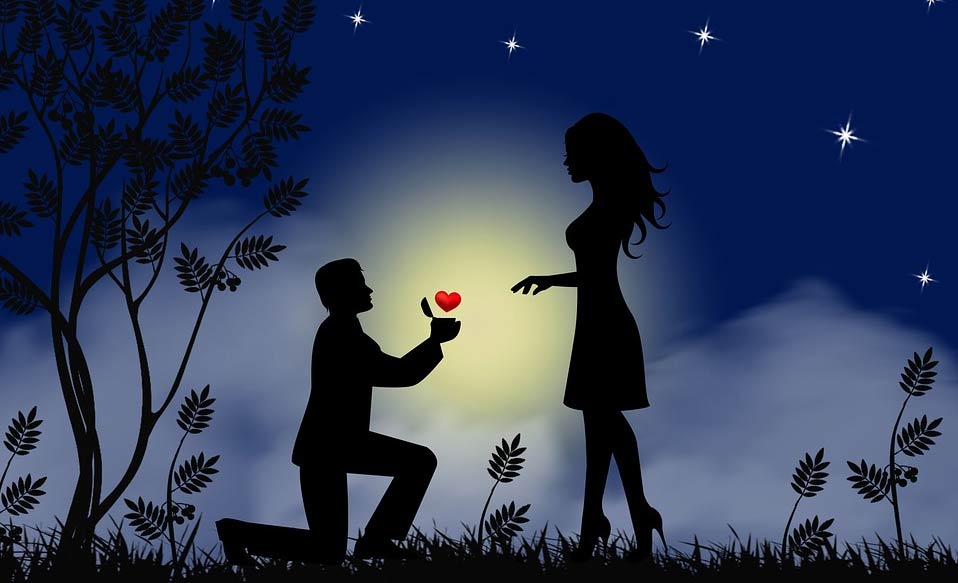 Who doesn't love a good proposal story? Love, surprise, romance and beautiful settings are the usual ingredients, but each profession of love is unique – and sometimes doesn't quite go as perfectly as the groom or bride-to-be imagined. Mount Pleasant's picturesque settings have hosted many a bended knee over the years; from on-water proposals to Memorial Waterfront Park to Alhambra Hall to Pitt Street Bridge and homes, backyards and special places in between.
A SHRIMPLY PERFECT PROPOSAL
When Eliza Magwood and her friends were stranded in a boat on a sandbar, she didn't realize that the stranger oystering nearby who came to their rescue would ask for her hand in marriage a little over a year later. She connected with him on Facebook to thank him, and the rest is history. Rocky Magwood, a Mount Pleasant native, is in the family business selling seafood – he shrimps, crabs, picks oysters and runs boats as a licensed captain – so one cold day in February when he invited her to ride his uncle's shrimp boat, Winds of Fortune, she didn't suspect a thing.
"We were in Caper's Inlet, and he said, 'Come up to the bow – I want to show you something.' And we went up, and it was so surreal. He was on his knee and had the ring out and proposed. I was blindsided so much that I didn't answer at first – he was still down there like, 'So?' and of course then I said yes," she smiled. "He chose that exact spot because it's near his family land and also near Awendaw, where I grew up, so it is very special to both of us."
Eliza and Rocky have been married since 2016, and now have a 6-month-old son, Cam.
MEMORABLE MARRY-ME AT MEMORIAL WATERFRONT PARK
Jamiel Kadri had originally planned to propose to his girlfriend, Bridgette, on a boat on a Tuesday evening in 2013 – their eight-month dating anniversary – but Bridgette foiled his plans and had already scheduled something, reminding him that they were still on for their routine Thursday date night. The couple usually spent Thursday evenings on the pier at Memorial Waterfront Park, sharing a to-go pepperoni pizza from Little Caesars and sipping red wine from Solo cups while watching the sun set. That Thursday, when Jamiel packed real wine glasses instead, she fussed at him because she didn't think wine was actually allowed, and the glasses would be obvious.
After sunset, pizza and wine – in the Solo cups – Jamiel finally popped the question
"I was in total shock and said yes, but I wouldn't let him put the ring on my finger because we were right next to the water, and I didn't want to lose it," she said. "It was definitely a special place for us."
Today, the Kadris have two children, John Sidney, 3-and-a-half, and Zelie, 1-and-a-half. Another child is on the way.
THE BIG ASK AT ALHAMBRA
Andrew Pagels grew up in the Old Village and knew when he picked up the engagement ring in 2016 that he wanted to propose to his girlfriend, Anna, immediately. He asked if she wanted to see how the azaleas were blooming in the Old Village, adding to dress nicely so that they could get lunch later, not wanting her to wear hiking clothes since they often went on hikes. Andrew knew he wanted to propose under the grove of four water-side oak trees at Alhambra Hall, and, as they walked the path by the marsh, they saw some men fishing from a boat.
"If you ever propose to me, I don't need a ring – you can get me a boat," Anna laughed as they arrived at Andrew's spot.
He got down on one knee, pulled the ring out of his pocket and stuttered, "It isn't a boat, but I hope you'll take this ring."
"She immediately started crying and saying, 'no, no, no,' but in a good way. I said, 'Anna, you realize you're saying no!' She then said yes and teared up," he grinned. "I thought it was funny the guys fishing pulled anchor and left right after. I think they were jealous."
POPPING THE QUESTION AT PITT STREET
Leigh Mills, née Berry, who grew up in Mount Pleasant, often went for walks with her then-boyfriend, Clark Mills, at the Pitt Street Bridge because they lived nearby and enjoyed the beautiful views. She had a feeling he might propose one particularly cold, windy day in January 2006, when he insisted that they go for a stroll. But after they walked close to the end of the path and it hadn't happened, she assumed her suspicions were wrong and suggested they turn around because she was freezing.
"Then he pulls out the ring. I honestly don't remember what happened next," she laughed. "The funniest part is that on the walk back, these two ladies were fishing, and I yelled, 'I'm getting married!' and they yelled back, 'Don't do it!' It's a lot funnier now than it was on that day."
The Mills' now have three sons, Logan, 10, Connor, 8 and Rhett, 3.
By Anne Schuler Toole