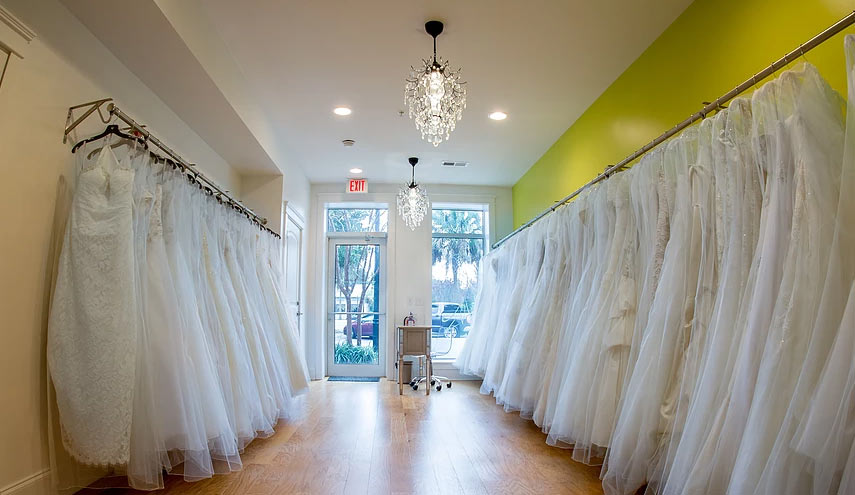 Planning your wedding can be a stressful time for many women, but picking the perfect dress? That should be the highlight of every bride's experience, and, at Bridal Boutique of Mount Pleasant, in the shops of Shelmore Village, Alexa Clark works hard to make it exactly that and more.
After years of watching her mom help brides find their dream dresses in their bridal boutique in Illinois, Alexa was inspired to open their second sample gown location down South in 2016. After two years of success, Bridal Boutique of Mount Pleasant is taking on exciting new ventures, including a custom line with Chicago-based designer Caroline DeVillo. Brides will be able to mix and match their favorite selections of lace, fabrics, bodices and skirts to design their very own custom-made gowns – with options starting under $1,000.
Newly engaged couples looking to find the best wedding vendors in town can join Alexa at the Big, Fake Wedding – a nationwide bridal show. Bridal Boutique of Mount Pleasant has the distinct honor of being the exclusive bridal attire vendor for the Charleston event.
Stocking around 150 different gowns at all times, customers can enjoy a varying assortment of styles from the rare sample selections, ranging in size from 2 to 26. With price points anywhere from $500 to $3,000, there is surely a beautiful gown waiting for the bride-to-be, no matter the budget.
As a family business, the Bridal Boutique of Mount Pleasant understands the magnitude of selecting the dress that will adorn every bride through all of the biggest moments: the walk down the aisle, the big I-do and especially the first dance. They are honored and excited to be a part of the Mount Pleasant community and look forward to helping every bride find the dress that was made just for her big day!
To learn more, visit www.mountpleasantbridal.com.