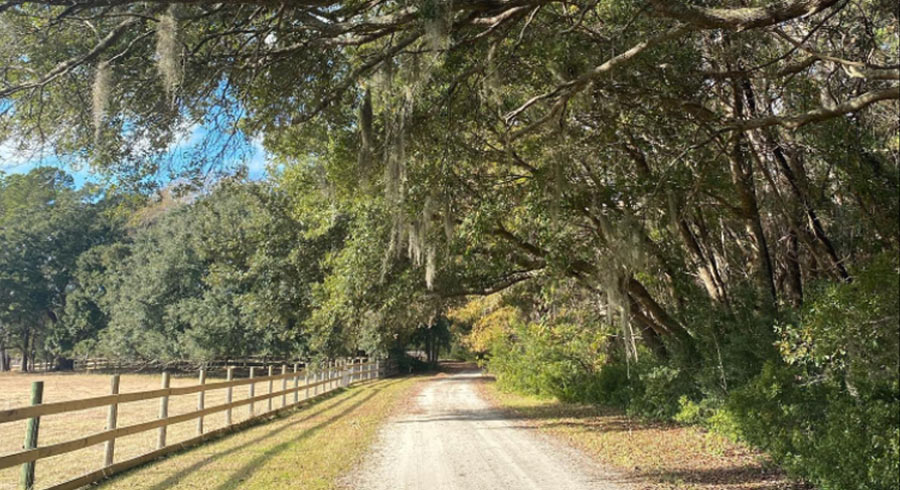 Lowcountry weddings are renowned for their charm and elegance, and Salty Oak Farm, a fresh face to the venue scene, is no exception. Located just a short drive away from Mount Pleasant in the wooded countryside of McClellanville, Salty Oak is a hidden gem.
Venue manager Stephanie Czerwinski and her brother Alex purchased the property in 2018. "We immediately got to work cleaning it up and restoring it. We kept all the original structures. We renovated the two houses and a barn that are on the property," they said.
With newly-renovated homes on the property, Salty Oak can also house visiting friends and family or provide a modern, clean space to prepare for any party or gathering. The iconic red barn has tall ceilings, updated bathrooms and plenty of seating for an outdoor party.
"The great thing about the farm is that it's a blank canvas. People have come up with all kinds of fun things they want to do with the property. We've had weddings, overnight stays in the farmhouse and a couple of big birthday parties," Czerwinski explained, "but then we've also had cooking classes in the farmhouse, some oyster roasts and farm dinners — things you may not typically do in a standard interior venue."
Of course, the farm also has multiple outdoor locations for a wedding ceremony. So whether you're looking for an intimate gathering under the oaks or a space beside a pond to hold all your friends and family, Salty Oak has you covered.
Learn more about Salty Oak Farms at www.SaltyOakFarm.com.
By Allison Sherman