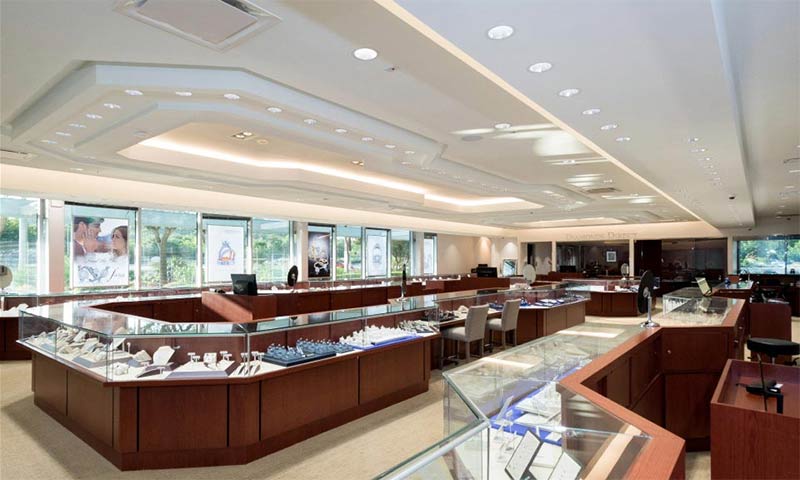 You're engaged! Your big day is now around the corner and it's time to find the perfect wedding band to symbolize the beautiful unity you share with your "soon-to-be" spouse. Let Diamonds Direct help you create the ultimate wedding band that compliments both your engagement ring and your personality.
When selecting a band, try on various styles appealing to your eye, even if the design is a bit out of your comfort zone. Some of the most unique bands come to life when paired with a beautiful engagement ring. It's important not to let your wedding ring outshine your center stone, but don't shy away from allowing your band to make a statement.
From elegant details to unique colored stones, Diamonds Direct can help you choose from these trendy, but classic styles.
Precious Gems
Adding gems to your wedding band is a guaranteed way to show off your personal style. Consider adding your or your significant other's birthstone to your band to create a personalized touch, or add an array of fancy yellow diamonds for a stunning, yet elegant and classic look. Whatever unique ring you are dreaming of wearing, Diamonds Direct can help you design it, and bring it to life.
Mixed Metals
What was once a bold and unexpected fashion statement is now the style most represented in major fashion magazines. Consider pairing your white gold engagement ring with a rose or yellow gold band to elevate your set. There are no rules to mixing metals anymore, so have fun picking out a band that compliments your versatile style.
Stackable Bands
Why wear one band when you can wear multiple? Two or more bands "stacked" together make a stylish statement and provide you with an opportunity to continue adding to your set in the years to come. Eternity bands and mixed metals stack wonderfully and create a conversation piece on your ring finger. Another plus, your fiancé will know the perfect anniversary gift.
Something Not Old, But Vintage
Select a band guaranteed to be passed down for generations to come. Vintage-inspired pieces pay attention to detail and the delicate, elegant and bit extravagant style found in these beautiful bands makes them truly timeless. Let Diamonds Direct help you find your inspired and trending wedding band.
Your Perfect Match
With thousands of classic styles to choose from, Diamonds Direct can match or custom-make your ring for a perfect wedding set. You can't go wrong with a brilliant round diamond eternity band, channel set or classic platinum style. If you're envisioning a wedding band that looks like it was made for your engagement ring, Diamonds Direct can help you find the seamless match.
Custom Created
Maybe what you are looking for is unique and needs to be personalized to what you've envisioned. Diamonds Direct offers custom options to give you exactly what you're dreaming of. Their experts can assist you in designing the ring, without limitations. They would love nothing more than to help you create a piece that allows you to wear your heart on your hand.
For more information about Diamonds Direct, visit diamondsdirect.com.
By Jenny Harrison